Small Description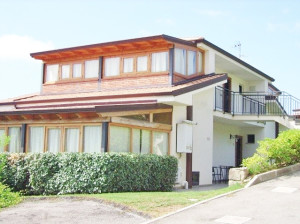 Villa, to those who want to enjoy a relaxing holiday surrounded by the green of nature, a few minutes drive from the sea on the hillside of Capo d'Orlando. The Residence has 12 cottages with kitchenettes, surrounded by a green park and equipped with modern comforts. With children's play area, amphitheater for performances, outdoor pool equipped with umbrellas and lounge chairs.
Large Description
Villa, is part of the Residence, located on the hill of Capo d'Orlando, a relaxing place with a swimming pool and children's play area, a few kilometers from the sea.
The villa, sleeps up to 16/18 people and is composed as follows:
private garden
4 equipped kitchen
4 double bedroom
4 bedroom with two single beds and the possibility of adding a third bed
4 bathroom with shower
shared pool
children's play area in common
A perfect place, for those who want to enjoy a relaxing holiday immersed in nature, a few minutes drive from the sea (about 2 km) and the city center of Capo d'Orlando (about 5 km)
Bedrooms: 8
Beds: 16/18
Bathroom: 4
Surface: 300 mq
Airport: Palermo 140km
Swimming pool: Yes
Air Conditioning.: Yes
Internet: Yes
Washing machine: Yes, in commun
Dishwasher: No
Barbecue: Yes
Terrace: Yes
Tennis Court: No
The Residence, being in a beautiful hill just behind the center of Capo d'Orlando is a few minutes drive from the sea (2 km) and the city center of Capo d'Orlando (about 5 km).
The higway exit is: Brolo/Capo d'Orlando east.
Distance from the Sicilian's airports:
PALERMO AIRPORT "Punta Raisi":160 km
CATANIA AIRPORT "Fontanarossa":200 km
TRAPANI AIRPORT "Birgi": 250 km
REGGIO CALABRIA AIRPORT "Tito Minniti": 125 km
Residence in Capo d'Orlando
- Wolodja S
Best place in sicily
Awesome holiday experience. Unglaublich schöne Residenz mit allem was man sich wünscht. So überschwänglich weil wirklich begistert! Jedes der Appartments ist qualitativ hchwertig und schön eingerichtet (wir haben 2 besucht) und nach der Pflanzenart benannt die um das Haus gepflanzt ist. Generell ist das Residenzgeländer von unglaublicher Flora umgeben. Der Pool ist zentral in 3 min zu erreichen und am Morgen kommt er Brötchen mann um Brot und Backwaren anzubieten, denn einen Wagen benöigt man schnon um an das Geländer zu fahren zu (aber einen shuttleservice vom Hotel/Residenzbetreieber hatte ich auch gesehen) Für uns war das einer unserer schönsten Urlaube!
- Stefan R
Tolle Aussicht
Wir (Familie, zwei Kinder) haben eine schöne Woche in Capo d'Orlande verbracht. Die Anlage ist sehr sauber und hübsch gepflegt. Highlight für uns Eltern war die fantastische Aussicht über das Meer und die vorgelagerten Inseln, für die Kinder stand der grosse und saubere Swimming Pool an erster Stelle. Die Wohnung und auch die Küche ist mit dem Notwendigsten eingerichtet. Von Capo d'Orlando aus lassen sich gut Ausflüge unternehmen, beispielsweise nach Cefalu, Taormina, auf den Ätna oder auf die vorgelagerten äolischen Inseln. Einziger Kritikpunkt: Die Wohnung war ziemlich kalt und innen auch etwas feucht. Wir gehen davon aus, dass dies im Hochsommer anders ist. Dafür gibts grosses Lob an das Personal vom Hotel Mulino (für Schlüsselübernahme und Rückgabe): Ausserordentlich freundlich und hilfsbereit! Wir können die Residenz mit gutem Gefühl und Gewissen weiterempfehlen!
- Jean Pierre D
Merveilleux fameux fabuleux
Superbe vue. Piscine grande et peu fréquentée.au calme. Propre. Spacieux. Nécessité de véhicule. Accueil chaleureux. Au top ! Séjour réussi à 100 %.
- Peter K
Spectacular views and great pool for a fair price
The house is situated in the mountains with great views of the ocean. There is a community pool which are kids enjoyed a lot. We had good communication with the host before our stay. During the stay we communicated with the hotel employees who is responsible for the day to day tasks of keeping the community of houses in the area. The house itself was suitable for a family of 4. there is 2 nice bedrooms and a combined living room/kitchen and 2 terraces. It worked fine for our family for 1 week of vacation. There is internet, but the connection is not very strong. Especially in the evening it was difficult to use the internet. We were missing a dish washer as well, but it is manageble for a short stay. Note that you have to pay for the electricity usage seperately (this was informed to us in advance). It seemed to us that it is mainly the air condition that drives the electricity usage, so remember to shut of the aircondition when you are not in the house. All in all we recommend a stay in Federicos house. The area is really nice and the viems from the house are spectacular and the price for it is fair.
- Sandrine
Un séjour agréable dans la résidence: la vue sur mer, le calme, la piscine
- Ed
Lovely host who makes it you very comfortable!
- Chantal
Mooi ruim appartement. Het zwembad is super. Rustige ligging op een heuvel. In de directe omgeving is niet veel, stadje of bijv supermarkt is al snel 20 min met de auto (stijle wegen). Inrichting is basic, maar alles is aanwezig en keurig schoon. Beheerders spreken heel slecht Engels, maar Frederico is een prima hulp.
- Olga
We enjoyed our stay very much. The view and surrounding are spectacular. The place is very peaceful. The appartment is well equipped, clean and very nice. The beds are very comfortable. Federico replied quickly to our messages. Thank you very much Federico for our wonderful holidays!
- Lea
Superbe résidence très bien entretenue avec vue imprenable et piscine impeccable. Federico nous a donné de très bonnes adresses de restaurants. Voiture indispensable
- Morad
Parfait séjour dans villa Piscine machine à laver et tout l'équipement
- Lars
Lejligheden lå højt oppe på en bakke udenfor byen. Bil påkrævet. Der var den flotteste udsigt over Middelhavet og solnedgang. Lejligheden var fint indrettet med 2 soveværelser og et udmærket badeværelse. Service til min 6 personer men der manglede en skarp køkkenkniv. Dejligt m aircon med remote control.
- Nicolas
Résidence agréable, calme, spacieuse, à deux pas de la piscine dans un magnifique village vacances. Les criques de Capo d'Orlando sont à 10 minutes en voiture. Federico a toujours été disponible et d'une aide précieuse pour la préparation de notre voyage. Jessica l'hôtesse d'accueil du village parle très bien Français et son magnifique sourire nous a accompagné tout au long de notre séjour. L'amphithéâtre ombragé à côté de la maison compensait la petite terrasse ensoleillée le midi. Une résidence idéale en famille!