ACITREZZA e BAIA DEI CICLOPI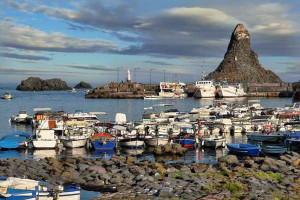 :
Acitrezza, is a small but very charming fishing village, dominated by the sea 8 stacks (stacks volcanic) which according to the myth of the Odyssey, was the cyclops Polyphemus threw these large boulders against Ulysses in flight. Acitrezza hosted also the setting of the novel Malavoglia of Giovanni Verga, in the village you can also find the famous house "Casa del Nespolo" that inspired the novel.
ACICASTELLO:
Acicastello is a little seaside village, nestled at the foot of an ancient Norman
castle. Not far from Catania it is a perfect place to spend a day at the beach, or simply go for walks in the streets of the town which lead to the sea. The Castle is situated on a ridge of lava, which dominates the square surrounding construction Norman building, once home to major lords of the past and used as a military prison. It now houses the Museo Civico, divided into three different sections: paleontological section, section mineralogical and archaeological section.