Small Description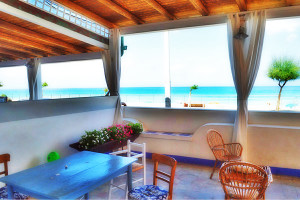 Casa della Lampara, this boat of the past, stranded 5 meters from the beach is the most authentic example of the Sicily of the 1800. Justly 5 meters from the Capo d'Orlando sea is waiting you with his shadowy terrace in front of the Tyrrhenian sea, with the Aeolian islands as landscape.
A wonderful holidays house in Capo d'Orlando, in front of the sea.
Large Description
Casa della Lampara, is a boat of the past, stranded 5 meters from the beach is the most authentic example of the Sicily of the 1800. Justly 5 meters from the sea is waiting you with his shadowy terrace in front of the Tyrrhenian sea, with the Aeolian islands as landscape.
Casa della Lampara, is located on the promenade and is a wonderful holidays house in Capo d'Orlando in front of the beach, sleeps up to 5 people and is composed as follows:
• large terrace
• living room with stove, double sofa bed, dining table, TV
• 2 double bedrooms
• bathroom with shower
The Capo d 'Orlando center is 500 meters walking, the promenade offers restaurants, bars and beautiful walks on foot or by bike with the Tyrrhenian Sea as background.
Bedrooms: 2
Beds: 6
Bathroom: 1
Surface: 65 mq
Airport: Palermo 140km
Swimming pool: No
Air Conditioning.: Yes
Internet: No
Washing machine: Yes

Dishwasher: No
Barbecue: No
Terrace: Yes
Tennis Court: No
The house is located on the waterfront of Capo d'Orlando in the center.
The higway exit is: Brolo/Capo d'Orlando east
Distance from the Sicilian's airports:
PALERMO AIRPORT "Punta Raisi":160 km
CATANIA AIRPORT "Fontanarossa":200 km
TRAPANI AIRPORT "Birgi": 250 km
REGGIO CALABRIA AIRPORT "Tito Minniti": 125 km
Holidays house in Capo d'Orlando
- Alexandra – 2022
C'est une belle petite maison , équipé je recommande vivement, la vue sur mer est superbe.
- Edwin – 03/08/13 – 11/08/13
Het huis was precies zoals beschreven. Mooier zelfs! Zeer schoon en perfect onderhouden. Ligging aan een heerlijk strand gescheiden door een weg. restaurantjes in de buurt. De eigenaar is zeer vriendelijk en uitermate servicegericht! Ik zou deze woning zeker aanbevelen.
- Dave – 19/10/15 – 30/10/15
Capo d'Orlando is a hidden gem and Frederico's home was fantastic. The location is directly opposite the beach and centrally located to all the main attractions and within 5-8 minutes stroll to the train station. Frederico was always willing to assist us as his guests and was totally understanding mom our needs. The home is an older style dwelling that has been converted from oringingly fisherman's quarters. The place I'd homely, comfortable and adequate for either a short term or longer stay. The tranquility of this home and soft sound of waves breaking on the shore is magnificent. I would have no hesitation in recommending this home to others or staying there again in the future. Thanks Frederico.
- Good Guy – 10/07/16 – 18/07/16
Great location. Seems larger than pictures. Patio was fantastic in afternoon. Easy check in and check out.
- Massimo – 30/08/16 – 12/09/16
Come da inserzione, la casa supera la media in quanto a confort, posizione e completezza. Davvero carina e fedele alla descrizione del sito. Inoltre, il proprietario si è sempre dimostrato disponibile alla soluzione di ogni problema (in realtà pochissimi) che si è presentato.
- Christiane – 07/10/16 – 20/10/16
Frederico a toujours été spontané pour répondre à nos demandes. Son logement est bien placé, agréable et bien tenu. Il nous manquait juste une vraie cafetière pour nous français qui buvons un bon bol de café le matin. Il y a beaucoup de choses à faire autour de ce site : Capo d'Orlando, lui-même, les îles éoliennes, Cefalù, l'Etna, Taormina, Messine. Ce sont des incontournables. Nous recommandons ce logement vivement. Merci encore à Frederico pour son accueil.
- Biagio
Appartamento rustico finemente arredato che si affaccia sul lungo mare di Capo D'Orlando con una terrazza fantastica se ti vuoi godere a pieno le calde serate siciliane. Proprietari gentilissimi e disponibili. Sarà il mio punto d'appoggio in Sicilia, grazie mille!
- Angela
Casa pulita, fornita di tutto ciò che serve per rendere comodo il soggiorno, ottima posizione.
- Teresa
Casa stupenda a 2metri dalla spiaggia e dal mare. Abbiamo goduto di bellissimi tramonti sorseggiando un bicchiere di vino dalla bellissima terrazza. Grazie mille a Federico
- Marnie
Abbiamo trascorso 12 giorni stupendi in famiglia. La casa era come descritta sul sito e la sua ubicazione di fronte al mare è perfetta per ammirare i tramonti. Federico è sempre stato disponibile e pronto a rispondere alle nostre domande. Abbiamo pure conosciuto suo zio Giancarlo che ci ha portato nel suo bellissimo agriturismo vicino a Capo d'Orlando. Una persona appassionata che ci ha trasmesso il suo amore per la terra siciliana. Comunque complimenti per la casa! Avete saputo salvaguardare il suo carattere da casetta di pescatori e arredarla con gusto. Non ci è mancato niente e se dovessimo tornare a Capo d'Orlando la prenoterei di nuovo. La consigliamo anche a famiglie con bambini piccoli.
- Rikke
We have been very happy to stay in Federico's house. Everything was very nice and charming inside. Outside on the terrace is the most beautiful view of the sea and a beautiful sunset. It is nice to take a morning bath in the ocean.

Federico's uncle was very serviceminded and sweet, he came by with lemons from his garden

No wifi. We can recommend this place.