Small Description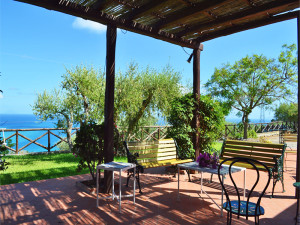 Villa Katutè, is a beautiful villa with in Capo d'Orlando, situated on a hill surrounded a green area, 4 miles from the sea and the beaches of Capo d'Orlando.
The place offer you a breath-taking view over the village of Capo d'Orlando and the Aeolian Islands, a perfect place to enjoy a comfortable holiday in a complete relax in Sicily.
Large Description
Villa Katutè is a beautiful villa in Capo d'Orlando, located on a hill surrounded by trees just 4 km from the sea and the beaches of Capo d'Orlando. The place offers a view as few on the sea and on the coast of Capo d'Orlando with the Aeolian Islands on the horizon: a perfect place to spend a complete relaxing holiday in Sicily.
Villa Katutè has a large sea-view veranda and a large equipped garden, can accommodate up to 8 people and is composed as follow:
l

arge living room with fireplace, tv, sofa and dining table

kitchen

d

ouble bedroom 1 (with en-suite bathroom)

d

ouble bedroom 2

double b

edroom with 2 single beds (1) (with bathroom with shower)

double b

edroom with 2 single beds (2)

bathroom with shower

l

arge seaview veranda well equipped

The villa is equipped with private entrance, parking and relaxation area, situated on a green hillside 4 km from the sea. It enjoys a panoramic view of Capo d'Orlando and the Aeolian Islands.
Bedrooms: 4
Beds: 8
Bathroom: 3
Surface: 150 mq
Airport: Palermo 140km
Swimming pool: No
Air Conditioning.: Yes
Internet: Yes (daily consume 1gb)

Washing machine: Yes
Dishwasher: Yes
Barbecue: Yes
Terrace: Yes
Tennis Court: No
The villa is located four kilometers from the sea and the beaches of Capo d'Orlando, at the district Catutè.
The higway exit is: Brolo/Capo d'Orlando east
Distance from the Sicilian's airports:
PALERMO AIRPORT "Punta Raisi":160 km
CATANIA AIRPORT "Fontanarossa":200 km
TRAPANI AIRPORT "Birgi": 250 km
REGGIO CALABRIA AIRPORT "Tito Minniti": 125 km
- Miriam – 2022
Die Lage des Hauses ist sehr schön. Man hat eine wunderschöne Sicht auf das Meer. Ein Auto ist jedoch notwendig. Parkplatz vor dem Haus, mit abschliessbarem Tor.
Der Garten ist sehr gepflegt und man kann sich dort gut erholen.
Die Zimmer und die Sanitären Anlagen sind gut.
Wir haben uns wohl gefühlt.
- Nicoline – 2022
We stayed at the villa for 1 month. The villa was very nice and big, and the garden and view just amazing. Federico and Carmen made sure that our stay was perfect. We got complementary lined change every week which was very nice, and it was also possible to pay for extra cleaning for a low cost. Also the hosts found the children equipment we needed (high chairs and baby bed). And we got some nice sightseeing recommendations.
- Corentine – 2022
Magnifique séjour. Un hôte très réactif, à l'écoute, et source de proposition pour diverses activités. La villa est idéalement placée pour jouir d'une magnifique vue en toute tranquillité.
- Jerome – 2022
Magnifique villa , grande et très propre , une vue sur mer incroyable permet de profiter des magnifiques couché de soleil. Le jardin est très plaisant ! La maison est ouverte sur l'extérieur. Pour se rendre en ville il est préférable d'avoir une voiture mais l'emplacement sur les hauteurs en vaut la peine ! Une très bonne boulangerie est situé en bas de la rue (voiture obligatoire) . Federico est très disponible et répond rapidement ! une fois sur place , Carmen a pris son relais et nous a très bien accueilli , elle est également disponible en cas de besoin et est de très bon conseils pour les sorties ! Nous y reviendrons avec grand plaisir !
- Sabrina – 2022
La maison est très charmante et la vue mer magnifique. Fédérico a été très à l'écoute et très facilitant. Nous le remercions pour cet agréable séjour.
- Giusy – 2021
Villa Katutè ha uno splendido giardino e una vista spettacolare. La casa non è nuova, ma molto pulita e molto ben tenuta. Ha tanti bagni e consente di viverci in parecchi comodamente. La colazione in mezzo al verde con vista isole è veramente rigenerante!
Se voleste godere della casa nelle ore centrali della giornata, il mio suggerimento è di prediligere inizio e fine estate o le altre stagioni, in quanto la cucina e il soggiorno non hanno aria condizionata e la cucina a gas riscalda a alza la temperatura delle stanze parecchio, mentre la veranda è ben Illuminata e riscaldata dal sole.
- Philippe L – 2020
Vraiment très bien !
Excellents contacts avec le propriétaire. Le gîte est très bien : bien équipé, vue exceptionnelle, un très bon restaurant à – de 2 km. Bref, tout pour plaire. Si il y a une petite remarque à faire, cela peut porter sur les douches qui sont minuscules. Mais à part cela, c'est vraiment une excellente adresse.
- Tanja P – 2020
Toller Aufenthalt
Das Ferienhaus vermittelt eine ideale Atmosphäre für das Urlaubsgefühl, Preis-Leistung ist wirklich gut. Wir waren drei Paare und ein Single und hatten genug Platz um uns auch aus dem Weg zu gehen, wenn man wollte. Allerdings muss man wissen, dass zwei von den drei Duschen nicht unbedingt für große Nordeuropäer geeignet sind (oder alternativ fülligere Personen), da diese ziemlich klein und eng sind (zwei von uns sind über 1,90m). Dafür sind Haartrockner vorhanden, die in der Beschreibung nicht erwähnt werden, wir hatten unsere mitgebracht- wäre gar nicht nötig gewesen. Außer Biolärm (Grillenzirpen, Hunde und stürmischer Wind im Herbst) hat man von Nachbarn nichts mitbekommen, man hat eine nahezu uneinsichtige Lage mit tollem Blick auf das Meer! Zum Strand selber fährt man ca. 10 Minuten, je nach dem, wo man schwimmen möchte. Sehr gut Essengehen in Capo D'Orlando kann man mehr als genug, Eisdielen überall, eine so gut wie die andere. Wir haben unseren Urlaub sehr genossen!
- Peter W. – 2019
Everything was very very very good. My only suggestion for an improvement would be to have air conditioning in the main living area and kitchen (in addition to what is in the bedrooms) because we found the very high temperature in Sicilly in July this year was very difficult for people who normally live in England,
- Julian T – 2019
Nice Villa with beautiful view and wonderful garden.
We very much enjoyed our stay in this tastefully decorated villa. We stayed there with 4 adults and two kids, engouh space. The house has everything that one needs, a good place to relax.
- Pietro S – 2019
Soggiorno in villa Catute' a Capo D'Orlando.
Siamo rimasti molto soddisfatti della casa e del posto.La casa aveva tutto cio' che si puo' desiderare x di vacanza : comodita', panorama, eleganza e disponibilita' da parte delle persone che ci hanno accolte.
- July G – 2018
Total relaxation
This villa is the perfect place to stay to chill out. The view is amazing, the quiet is lovely as all you hear are the crickets..no people, no traffic, no noise. The amenities in the villa are great (with a pool would have been really amazing but also like that its perfect as said) Eating outside is such a pleasure for house bound Brits, and to do so in such a setting is perfect. Going into Capo d'Orlando round the twisting streets, discovering little shops or restaurant is great The beaches are amazing Overall a wonderful week and we will miss it. Would we stay here again, definitely and are looking for a week in the very near future. Thank you to Federico for all help about our few excursions
- Sylvia S – 2018
Très belles vacances !
Nous avons passé un très bon séjour dans cette superbe villa avec superbe vue. Nous étions deux familles avec deux petits enfants et cette maison était juste parfaite pour nous, chacun avait son coin de vie et on se retrouvait autour la merveilleuse terrasse. Nous reviendrons certainement! Les propriétaires sont à l'écoute de nos besoins, nous avons reçu un accueil très chaleur, Federico toujours disponible par téléphone nous a donné des informations très précieuses pour les nôtres excursions.
- Nadia – 2017
Der Urlaub in dem großzügig geschnittenen Haus hat uns gut gefallen und wir haben uns hervorragend erholt. Die Terrasse und der Garten sind gut gepflegt und üppig bewachsen. Die Umgebung ist ruhig und der Blick auf das Meer bezaubernd. Im Haus haben wir uns gleich wohl gefühlt und beim Kochen in der Küche alles notwendige vorgefunden. Vielen Dank für den herzlichen Empfang und die gute Betreuung während der gesamten Zeit.
- Agata – 2017
the place is amazing. beautiful Mediterranean villa with great sea view, big terrace, nice barbecue area, a lot of flowers and trees in a garden. the house is fully equipped incl air-conditioning. it is not near the cost, so no loud sounds and no crowds. we are really enjoyed our staying. Big thank to Federico and Antonella!
- Daniel – 2017
Very good accommodation! Federico is very nice and has helped with problems very quickly (in the whole region the water has failed for some hours)! Thank you very much!