Piccola Descrizione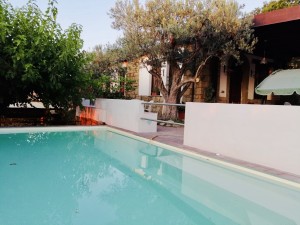 Casa Ale, è una villa con piscina a Capo d'Orlando che si trova sulla collina di Capo d'Orlando, con una vista sul Mar Tirreno e sulle Isole Eolie da togliere il fiato a 5 minuti dal mare sulle colline di Capo d'Orlando.
Descrizione Ampia
Casa Ale, è una bella villa con piscina a Capo d'Orlando, all'interno di una collina incontaminata, con una vista sul Mar Tirreno e sulle Isole Eolie da togliere il fiato.
Un luogo dove pace e relax ne fanno da padrona lontani da tutto e da tutti ma sempre a pochi chilometri dal mare
Casa Ale: ha una capacità massima di 6 persone ed è divisa come segue:
ampia veranda esterna attrezzata
salone con divano letto matrimoniale, piano cottura e tavolo da pranzo e tv
camera da letto con letto matrimoniale
camera da letto matrimoniale
bagno con doccia (1)
bagno con doccia (2)
giardino posteriore con tavolini e sedie
Camere da letto: 2
Posti letto: 6
Bagni: 2
Superficie: 100 mq
Aeroporto: Palermo 140km
Piscina: Si

Aria Condiz.: No
Internet: Si
Lavatrice: Si
Lavastoviglie: No
Barbecue: Si
Terrazza: Si
Campo da Tennis: No
La villa in contrada San Gregorio, ad 1 Km dal mare e dalle spiagge di Capo d'Orlando e dal borgo di San Gregorio.
Uscita autostrada: Brolo/Capo d'Orlando est
Distanza aeroporti Sicilia:
AEROPORTO DI PALERMO "Punta Raisi"

: 160 km

AEROPORTO DI CATANIA "Fontanarossa"

: 200 km

AEROPORTO DI TRAPANI "Birgi"

: 250 km

AEROPORTO DI

REGGIO CALABRIA "Tito Minniti"

: 125 km
- Laurent – 2023
Super séjour. Super piscine très propre avec vue sur mer. Environnement calme dans une oliveraie. maison conforme au descriptif.
- Linda – 2023
Great place to stay away from the town but just up in the hills about a 10 min drive from Capo D'Orlando. The villa is spacious with a comfortable covered outside veranda witha table, chairs and comfy sofa and chairs. The pool is so refreshing and always clean. The location was perfect. Inside is a dining table, TV, sofa and kitchen. Loved the location as CapoD'Orlando is not at all touristy and there are some nice bars and restaurants to go to. The beach too is lovely. We really enjoyed our stay. Great views of the sea from the villa and the surrounding area. I would recommend this as a great place to stay. We did have problems with mosquitois but that is typical of the area.
- Beate – settembre 2022
Der Aufenthalt war eibfach unglaublich schön.Die villa ist super schön und mit den Pool ein Traum. Frederico und sein Team sins sehr hilfsbereit und unglaublich freundlich und haben uns sehr gut beraten. Es ist hilfteich Mücken spray und Antijuckspray einzupacken.
Es war eine tolle Zeit
- Cyrille – agosto 2022
Very helpfull host, regular maintainance during the trip
House compliant with the description.
Access a little bit complicated (2 minutes off road & vegetation, won't be easy for very low level cars), but if you love to be a little isolated and almost alone : good choice.
Good location to trip in the north of Sicilia, or go on a boat to see the Stomboli, or join Catane in 2 hours and a half while going around Etna
- Anne – luglio 2022
Great, charming place, bucolic settings, lovely vue and swimming pool, lots of comfy chairs to lay around. The next door house (also for rent by Federico) is very close but the layout for the 2 houses is very well done and maintains privacy.
- Ushani – giugno 2022
Great house with an amazing view. Cozy decorated, so it could feel like home quickly. Super comfortable. Capo D'Orlando is a nice little town with beautiful beaches nearby. Car is necessary in my opinion. There are other houses attached to the property, so not totally private, but almost!
- Nadia – aprile 2022
Casa Bibi was exactly what we were looking for, a beautiful place off the beaten path, as we do not like mainstream cookie-cutter places. It's located on a hill, in the middle of an olive tree grove, overlooking the Tyrrhenian Sea and Eolian Islands. The villa offers a unique combination of local colorful character and modern comfort. It is spacious, clean, and has all the modern amenities. You can have a family meal outside, on a terracotta patio. Or you can go for a walk in the olive tree grove.
Federico was very responsive to our needs. When we needed help, someone came over to help us within a few minutes, even late at night.
It is best to have a car when staying at Casa Bibi, as it's quite high up on a hill. It's about a 40-minute walk uphill from the marina, albeit through a beautiful olive tree grove.
To get to the villa you will have to drive a narrow windy mountain road that is not paved at the end. We made sure to rent a car with an automatic transmission. Check-in is at a different villa and someone showed us the way to Casa Bibi, we followed them in the car. It was not far, but our GPS did not cover the area, so make sure you carefully take note of how to get to Casa Bibi.